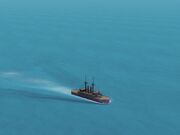 The Mikasa is a purchasable Pre-Dreadnought type Battleship in Battleship Craft.
History
The Mikasa was launched in 1902 as the only ship of her class into the Imperial Japanese Navy. She served extensively in the Russo-Japanese War, taking part in the bombardment of Port Arthur and the Battle of Tsushima. During World War I, Mikasa served as a costal defense ship. In 1922, under a specific exception in the Washington Naval Treaty, Mikasa was allowed to become a museum ship and, in 1926, she opened to the public. She is the only pre-dreadnought battleship afloat.
In Game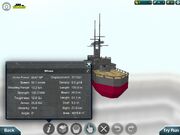 The Mikasa is available for purchase in the store for 40,000 resource. But, the Mikasa is able to be acquired for free if one inputs the code "jmsdf". This is a reference to the Japanese Maritime Self Defense Force, the current naval forces of Japan. It is armed with two 30.5+ cm guns, eleven 12 cm guns and four 47mm RFGs. The Mikasa has an armor belt of 200mm lightweight armor below the deck. Two small boilers provide the power for the Mikasa to reach its top speed of 52.1 knots. Overall, due to the ability to receive the Mikasa for free, there is no reason not to get it. The base design is able to power through most of the first half of the drills. But Mikasa is quickly outmatched in the later drills and most online opponents.
Trivia
Code to unlock Mikasa is 'jmsdf'