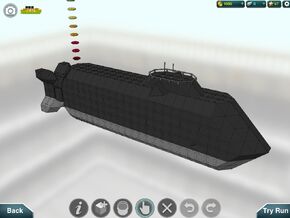 In-Game Ship
The JMSDF SS Soryu is a submarine built by BLUEMAN'S DOG and is currently purchasable in the shop for 300,000 resources. The SS Soryu is equipped with 2 underwater torpedo tubes and a hidden angled boiler inside itself. It is mainly composed of 600mm armor, 600mm lightweight armor, 1/6 hull, 5/6 hull, and 1/2 hull. It also has good stability.
History
The Sōryū-class submarines (16SS) are diesel-electric submarines that entered service with the Japan Maritime Self-Defense Force in 2009. The design is an evolution of the Oyashio class submarine, from which it can most easily be distinguished by its X-shaped tail planes. The Sōryūs have the largest displacement of any submarine used by post war Japan.
The class are fitted with air-independent propulsion based on Kockums Stirling engines license-built by Kawasaki Heavy Industries, allowing them to stay submerged for longer periods of time.
9 Sōryū-class submarines were planned, 5 are currently completed and active while 4 other subs are still being built.
Class Overview
Name: Sōryū
Builders: Mitsubishi Heavy Industries Kawasaki Shipbuilding Corporation
Operators: Japan Maritime Self-Defense Force
Preceded by: Oyashio-class submarine
Built: 2005–
In commission: 2009–
Building: 4
Planned: 9
Completed: 5
Active: 5
General Characteristics
Type: Submarine
Displacement: Surfaced: 2,900 tonnes (2,854 long tons)
Submerged: 4,200 t (4,134 long tons)
Length: 84.0 m (275 ft 7 in)
Beam: 9.1 m (29 ft 10 in)
Draught: 8.5 m (27 ft 11 in)
Propulsion: 1-shaft 2× Kawasaki 12V 25/25 SB-type diesel engines diesel-electric
4× Kawasaki Kockums V4-275R Stirling engines
3,900 hp (2,900 kW) surfaced
8,000 hp (6,000 kW) submerged
Speed: Surfaced: 13 kn (24 km/h; 15 mph)
Submerged: 20 kn (37 km/h; 23 mph)
Range: AIP endurance (est.): 6100 nautical miles (11297.2 km; 7060.75 miles) at 6.5 knots (12 km/h; 7.48 mp/h)[1]
Test depth: 900' ft crush
Complement: 65 (9 officers, 56 enlisted)
Sensors and processing systems: ZPS-6F surface/low-level air search radar Hughes/Oki ZQQ-7 Sonar suite: 1× bow-array, 4× LF flank arrays and 1× Towed array sonar
Electronic warfare & decoys: ZLR-3-6 ESM equipment 2× 3-inch underwater countermeasure launcher tubes for launching of Acoustic Device Countermeasures (ADCs)
Armament: 6×HU-606 21 in (533 mm) torpedo tubes with 30 reloads for: 1.) Type 89 torpedoes 2.) UGM-84 Harpoon Mines
Ad blocker interference detected!
Wikia is a free-to-use site that makes money from advertising. We have a modified experience for viewers using ad blockers

Wikia is not accessible if you've made further modifications. Remove the custom ad blocker rule(s) and the page will load as expected.