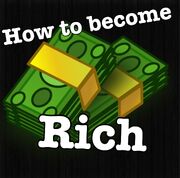 Notice
In BSC 1.6 .plist file modification is obsolete; your .sqlite in Documents>db must be edited in conjunction with any .plist file for changes to occur.
Some of these methods are Hacks. This wiki can't be held responsible for any penalties that might be inflicted on you due to the use of them. 
Modding can cause problems. Always remember what you changed so you can change it back if problems occur. Also note than some files can become corrupted when saving, making the game laggy or unplayable. BE CARFULL
Method #1:
Play Duel-9 a bunch of times. It is the easiest and most rewarding drill.
Method #2:
You will need: iFunbox & Firefox add-on sqlite manager.
Steps
[1][2][3][4][5][6][7][8][9][10][11][12][13][14][15][16]
It only works on the items that are already in the store.
The new iFunbox file explorer requires a Jailbroken device.
Method #3
It doesn't specifically give you more money, but adds parts to your inventory.
Download and use the Firefox .sqlite editor as afforemenioned above.
Make sure BC is not running.
Access the battleship.sql file mentioned above
Locate the column labeled ZSTOCK in table ZBSPROTOTYPEUNIT
Change the number values to an obscene number.
Save it and run BC
You should have a very large amount of parts in your inventory, as if you already bought them but without deducting the money.
Just change the values where ZCOST > 0 and WARNING: Never set rows where zcategory = "weapon?" (where the quotianmark appears) to <> 0 - you get VIPed otherwise!
Method #4
In development.
Method #5
You need the aforementioned Ifunbox and Firefox SQLite manager. To do it just access the battleship.sqlite, then go to zbsmission, then treasury, then change zrewards to a large number, such as 100000000. When you put the SQLite back into the documents folder, you should have a very large number of resource. I will work on finding a way to get a lot of rare metals also. I'll add that if I find a way to.
Method #6
WARNING. RECOMMENDED FOR PEOPLE WITH EXPERIENCE WITH JAILBROKEN DEVICES AND ACTIVATOR ONLY!
For all of you with jailbroken devices, there is a tweak called Autotouch, which allows easy recording of a sequence of taps onscreen. So all you need to do is 
Download the tweak from the BigBoss repo in Cydia
Assign an activator action to start/stop the recording (I suggest hold volume up)
Go to night battle lvl 3 in WSC or BSC. 
Start the recording by performing the Activator action and selecting Start Recording. Watch out as the recording will start immediately. 
When the battle finishes, play the match again. This is to make sure that A: the recording is long enough for extended repetition, and B: there will no menu shifting once completed.
Stop the recording by pressing the aformentioned Activator action.
Set the recording to play for X number of times during a long duration of free space i.e. while you are asleep. 
That's it! Enjoy your new resources!
Finally, for those of you wondering why us jailbreakers don't just crack the IAP's, my answer is that it is immoral and hurts the app developer. The whole reason BSC was taken down was due to Phyzios not making enough money. The people at WSC are working hard to bring back the game, we should show them some support by not exploiting their IAP's. Just play the game fairly. 
Warning
The tutorial is for Method #3 and Method #5: Method #5 should be never used while posessing IAPs like spys or ensigns! They will be lost!